Press Releases
CITY OF KWINANA AND PHOENIX ENERGY SIGN HISTORIC WASTE TO ENERGY AGREEMENT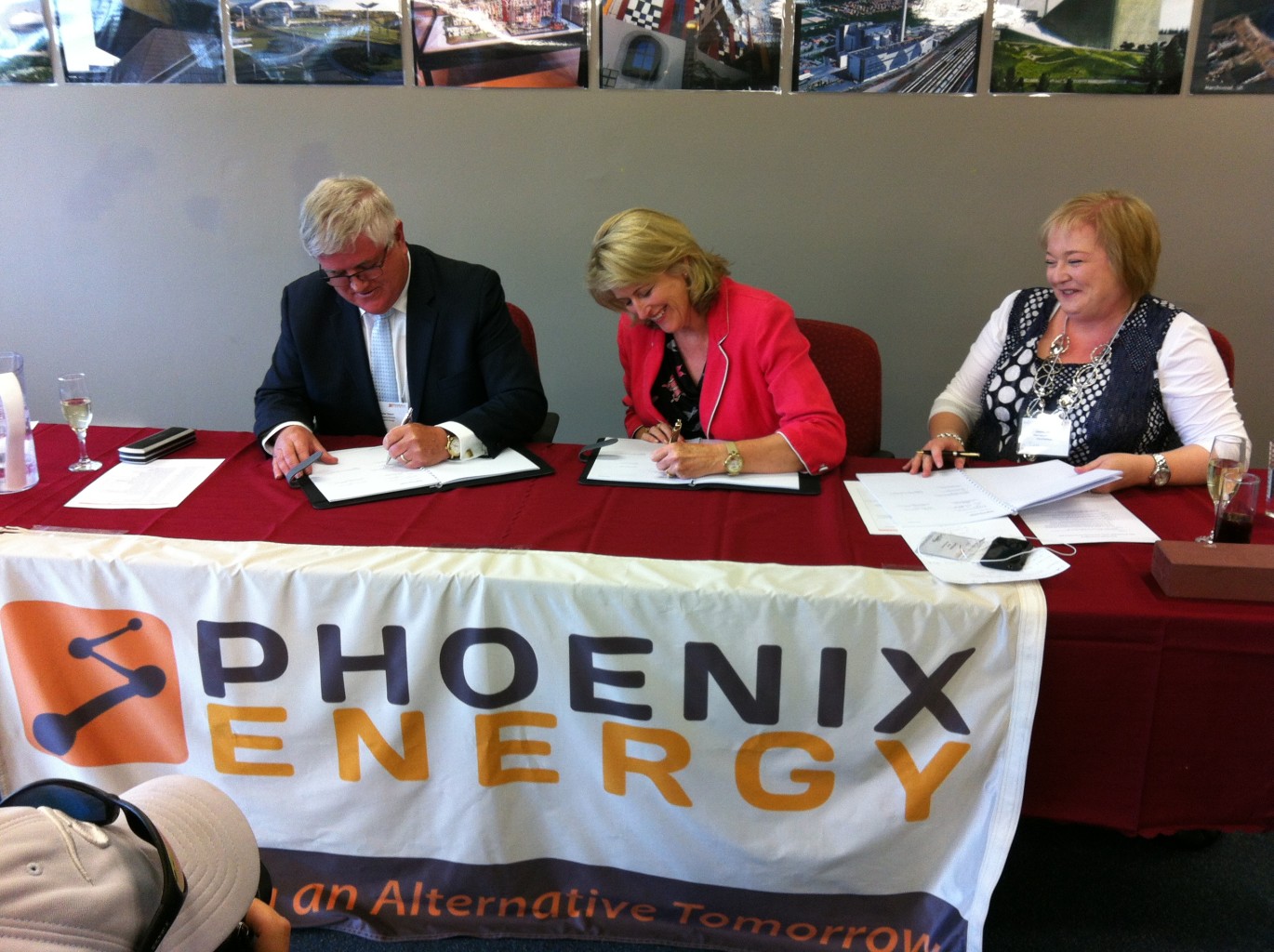 Phoenix Energy MD, Peter Dyson, City of Kwinana Mayor Carol Adams and City of Kwinana CEO, Joanne Abbiss signing the contract documents
The City of Kwinana (WA) and Phoenix Energy Australia Pty Ltd are pleased to announce that they have agreed to enter into a 20 year Waste Supply Agreement for the supply of residential residual waste to the proposed $380million, Kwinana Waste to Energy facility.
This contract, the first of its kind in Australia, will ensure that the City of Kwinana will be able to divert 100% of its residential residual waste from Landfill; achieve significant reductions in carbon emissions and produce the equivalent (renewable) energy to meet the needs of over 15% of its residents.
City of Kwinana Mayor Carol Adams said the decision by the City of Kwinana was a historic one.
"This is a unique and outstanding opportunity for the City of Kwinana to play a pivotal role in the future of waste management. Not only will it result in significant long term savings for our community, but it means we will achieve the Government's goal of zero waste to landfill, ensuring we made a positive change for our future generations.
An extensive public consultation period and environmental approval will be undertaken by the Environmental Protection Authority, however I can assure the community that the Council has undertaken an enormous amount of research to ensure that this is a suitable development for Kwinana. 
Our City has a long history of supporting industry, and we are delighted to be Australia's lead local government agency in this new approach to municipal waste management."
Click here for the full Media Release
PHOENIX ENERGY AUSTRALIA PTY LTD AND ALGAE.TEC SIGN WASTE TO ENERGY AGREEMENT FOR AUSTRALIA AND NEW ZEALAND
ASX RELEASE – October 29, 2013 – Algae.Tec (ASX: AEB, OTCQX: ALGXY) is pleased to annouce that it has signed a binding agreement with Phoenix Energy Australia to provide its proprietary algae to biofuels technology for waste to energy (W2E) facilities proposed for Australia and New Zealand.
Algae.Tec has agreed to an exclusive arrangement to provide its technology for any W2E plant built by Phoenix Energy. Algae.Tec's technology will capture the CO2 produced by the W2E plant and convert it to algae products (such as biofuels), thereby ensuring that the W2E plant will be the most environmentally friendly process possible.
About Algae.Tec www.algae-tec.com
Algae.Tec Ltd, founded in 2007, is an Australian advanced renewable oil from algae company that has developed a high-yield enclosed algae growth and harvesting system. The Company has offices in Atlanta, Georgia and Perth, Western Australia. The Algae.Tec bioreactor, an enclosed modular engineered technology, is designed to grow non-GMO algae on an industrial scale, and produce algae products including biofuels that replace predominantly imported fossil fuels. The Algae.Tec solution is less than one tenth the land footprint of pond growth options, while its enclosed module system is designed to deliver the highest yield of algae per hectare, and solves the problem of food-producing land being turned over for biofuel production.
Click here for the full ASX/Media Release
PHOENIX ENERGY AUSTRALIA PTY LTD AND JOHN HOLLAND BEGIN COLLABORATION ON KWINANA W2E PROJECT
Perth, Australia – May 29, 2012 – Phoenix Energy Australia Pty Ltd and John Holland begin collaboration on a new-generation Waste to Energy [W2E] Plant in Kwinana, Western Australia
Click here for the full Media Release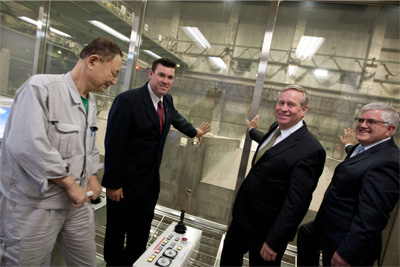 WA PREMIER TOURS NEW-GENERATION WASTE TO ENERGY [W2E] PLANT IN TOKYO WITH Phoenix Energy Aus
Tokyo, Japan/Melbourne, Australia – March 7, 2011 – Phoenix Energy Australia, a waste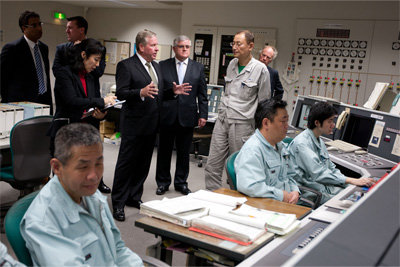 to clean energy [W2E] company licensed to deploy new-generation Westinghouse and Mitsubishi technology, will today accompany Western Australian Premier Colin Barnett on a tour of a modern W2E plant in Tokyo.
Phoenix Energy Australia Managing Director Peter Dyson will join the Premier and the Hon. Phillip Edman, MLC WA, on a tour of the Ariake Waste to Energy Plant in Tokyo to see the Mitsubishi technology at work.
Ariake Waste to Energy Plant Manager Toshiaki Tanaka and Section Head Osamu Nakai will lead the tour of the plant, which is located in a residential area in Tokyo.
Phoenix Energy Australia has an exclusive license agreement for the Westinghouse Plasma Gasification system in Australia and New Zealand and represents Mitsubishi Heavy Industries Environmental & Chemical Engineering Co in Australia for a number of projects.
Dyson said both technologies are the world leaders in their respective fields in W2E.
"There are currently more than 900 W2E plants of this type in operation around the world, but none in Australia as yet," said Dyson.
Phoenix Energy Australia is talking with municipal councils and State Governments interested in the W2E technology to reduce landfill pollution and generate clean energy cheaper than coal fired power stations.
On average each garbage bin put out on the kerb each week contains enough energy to provide 14% of the household's electrical energy needs for a week.
The W2E plants comply with new European Environmental Standards with sophisticated pollution control systems – a combination of filters, scrubbers and catalytic reactors.
Phoenix Energy Australia is involved in the proposed Kwinana Project outside Perth and is one of the approved respondents to the forthcoming Eastern Metropolitan Regional Council (EMRC) Resource Recovery Facility proposed at the Red Hill landfill.
"In order for Australia to meet its renewable energy target of 20% by 2020, renewable technologies such W2E are crucial," said Dyson.
"Traditional landfills take up valuable land space and have been criticized for their groundwater discharges and methane emissions. W2E plants could eliminate these problems by reducing the need for landfill by over 90%."
Dyson said councils were keen to consider W2E solutions with landfill being an increasingly challenging alternative, made even more prohibitive if a price on carbon is established.
Key features of a Phoenix Energy Australia W2E plant are:
Global best practice in plant design
Production of base-load renewable energy
Overall reduction in greenhouse gas emissions
Up to 90% reduction in landfill
Up to 60% local content in construction
Up to 800 jobs during construction
60 full time jobs ongoing
About Phoenix Energy Australia www.phoenixenergy.com.au
Phoenix Energy Australia Pty Ltd. is an alternative energy company with a focus on the conversion of waste products to create clean energy. Please note that Phoenix Energy is no longer a license holder for the Westinghouse Plasma Gasification technology.