Breaking News
Kwinana Waste to Energy Project Recommended for Implementation
The Environmental Protection Authority (EPA) has released its Report and Recommendations on the Kwinana Waste to Energy Project. The report includes a draft Statement that a Proposal may be Implemented and recommends that the Minister for Environment approve the implementation of the Proposal, subject to the recommended environmental conditions. The EPA Report and Recommendations (EPA Report 1538) and the Ministerial implementation Statement 1016 can be accessed here . For background on the Kwinana WtE Project and to review the PER, please go to Projects.
Phoenix Energy secures Australia's first long-term waste supply agreement to process Municipal Solid Waste for the recovery of energy and other resources.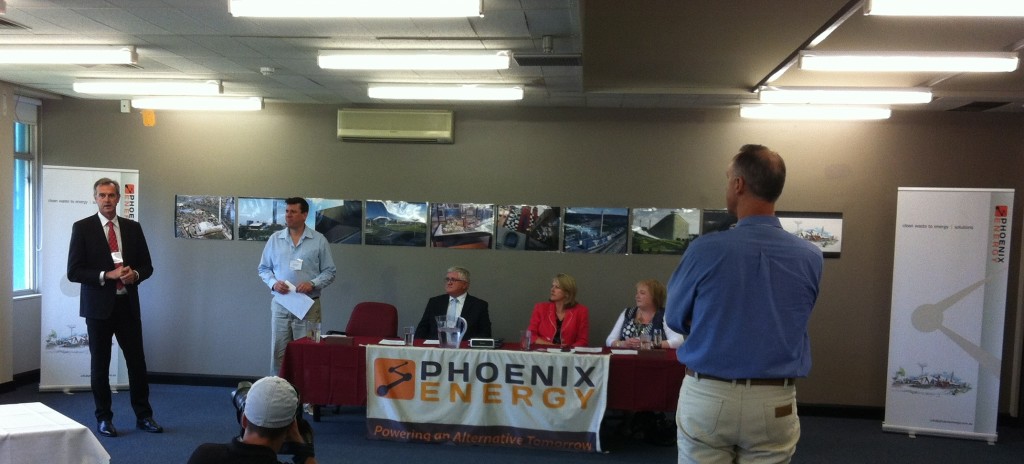 The Honourable Mr Tony Simpson, Minister for Local Government, the Honourable Phil Edman, Phoenix Energy MD Peter Dyson, City of Kwinana Mayor Carol Adams and City of Kwinana CEO, Joanne Abbiss, attended Monday's (16 December 2013) historic contract signing ceremony on site at the future home of the Kwinana Waste to Energy facility.
The event was attended by other representatives from the City of Kwinana, the Western Australian state government and the Kwinana Industries Council.  Phoenix Energy's local EPC partner, John Holland and preferred Owner's Engineer, Hatch Associates, were also represented at the ceremony.
Who we are and what we do
Phoenix Energy is a privately owned Australian Energy from Waste (EfW) or Waste to Energy (WtE) project development company.
Our role is to develop EfW projects in Australia and New Zealand from concept through to Final Investment Decision (FID) by:
– Using tried and proven EfW technologies sourced from reputable technology providers, and
– Partnering with international experts and local & international professional services firms with expertise in EfW.
Project development can be undertaken through a range of project delivery models, the choice of which is determined by the nature of the opportunity and the requirements of the key stakeholders. Typical project delivery models include:
– Design and Construct (D&C)
– Build, Own, Operate (BOO), or
– Build, Own, Operate and Transfer (BOOT)
Powering an Alternative Tomorrow
Reducing our carbon emissions, gaining more outcomes from the products we create and discard, using our natural resources in smarter ways are of course all necessary to achieve a better and more environmentally sustainable future.
At Phoenix Energy Australia we focus on the conversion of waste products to create 'clean energy' using tried and proven thermal waste to energy technologies (or Energy from Waste technologies, as they are often referred to in the Eastern States of Australia).
What key drivers are compelling Australian Councils to adopt a Waste to Energy strategy?
There are three major factors that are driving the introduction of Waste to Energy plants:

The first is a realisation that landfills are poor performers from an environmental aspect both in groundwater discharges and methane emissions as well as "locking-up" valuable land space that could be better utilised. It is estimated that Waste to Energy plants reduce the need for landfills by over 90%.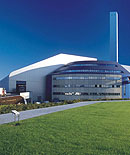 The second is that Waste to Energy is one of a range of renewable technologies that need to be adopted so Australia meets its renewable energy target (an Australian Government scheme designed to reduce emissions of greenhouse gases in the electricity sector and encourage the additional generation of electricity from sustainable and renewable sources) by 2020. It has been estimated that one tonne of MSW processed in a thermal Waste to Energy plant rather than landfilled reduces greenhouse gas emissions by approximately 1 tonne of CO2 (equivalent); through avoidance of landfill methane gas generation, avoidance of CO2 emitted by fossil fuel based energy generation and avoidance of CO2 generation through the recovery of metals and reuse of the ash/slag by-products.

The third is that Waste to Energy recovers the calorific value from the waste and converts that to baseload energy (i.e. a continuous source of steam, electricity or syngas, in the case of gasification, which can then be used as a natural gas substitue or for the production of liquid fuels), thus reducing reliance on coal-fired power stations, hence adding to our responses to climate change. It is estimated that one tonne of MSW processed in a Waste to Energy plant rather than landfilled reduces our reliance on oil by one barrel or 0.25 tonnes of coal.